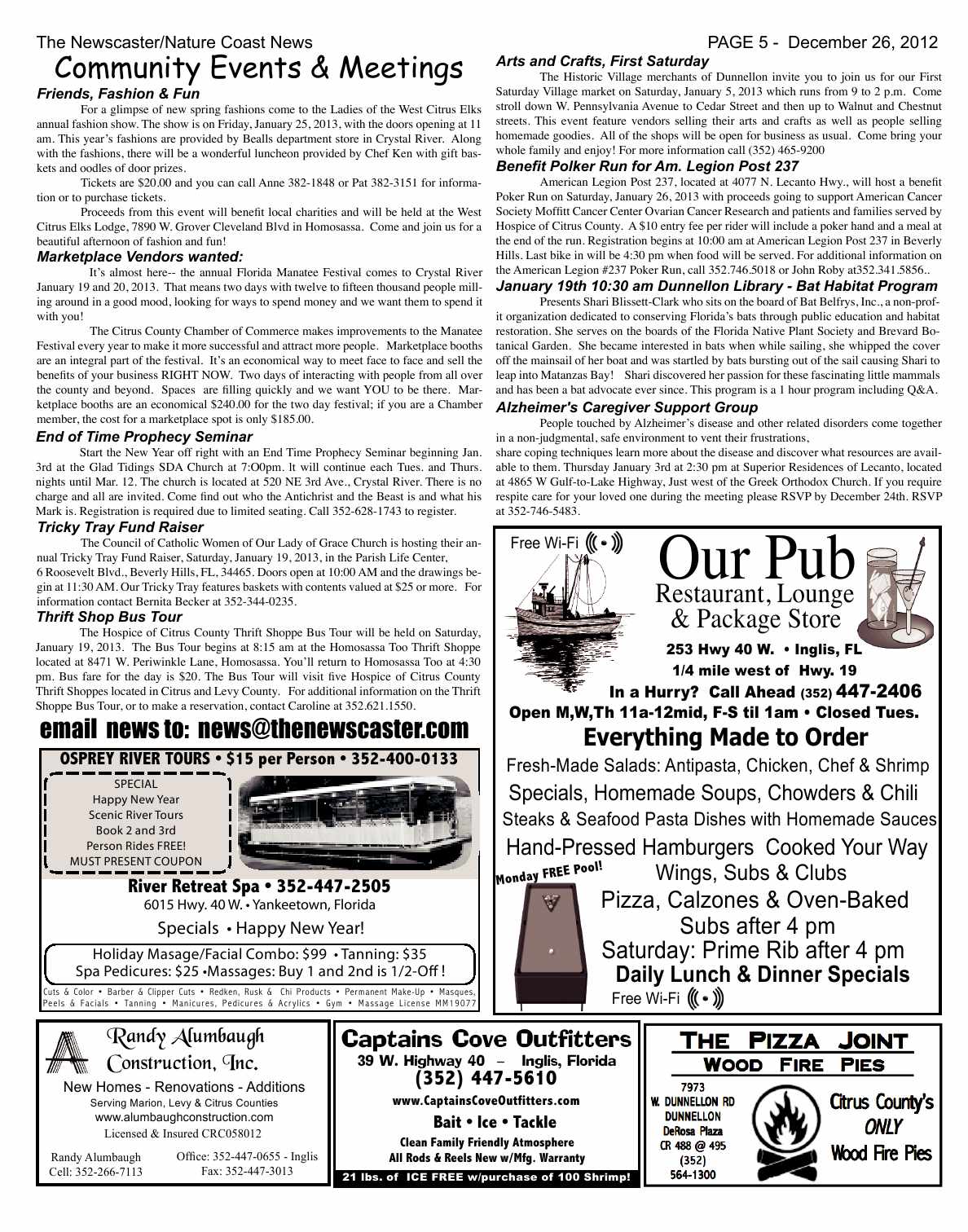 The Newscaster/Nature Coast News
PAGE 5 - December 26, 2012
Community Events & Meetings
Arts and Crafts, First Saturday
The Historic Village merchants of Dunnellon invite you to join us for our First
Saturday Village market on Saturday, January 5, 2013 which runs from 9 to 2 p.m. Come
Friends, Fashion & Fun
stroll down W. Pennsylvania Avenue to Cedar Street and then up to Walnut and Chestnut
For a glimpse of new spring fashions come to the Ladies of the West Citrus Elks
streets. This event feature vendors selling their arts and crafts as well as people selling
annual fashion show. The show is on Friday, January 25, 2013, with the doors opening at 11
homemade goodies. All of the shops will be open for business as usual. Come bring your
am. This year's fashions are provided by Bealls department store in Crystal River. Along
whole family and enjoy! For more information call (352) 465-9200
with the fashions, there will be a wonderful luncheon provided by Chef Ken with gift bas-
kets and oodles of door prizes.
Benefit Polker Run for Am. Legion Post 237
American Legion Post 237, located at 4077 N. Lecanto Hwy., will host a benefit
Tickets are $20.00 and you can call Anne 382-1848 or Pat 382-3151 for informa-
Poker Run on Saturday, January 26, 2013 with proceeds going to support American Cancer
tion or to purchase tickets.
Society Moffitt Cancer Center Ovarian Cancer Research and patients and families served by
Proceeds from this event will benefit local charities and will be held at the West
Hospice of Citrus County. A $10 entry fee per rider will include a poker hand and a meal at
Citrus Elks Lodge, 7890 W. Grover Cleveland Blvd in Homosassa. Come and join us for a
the end of the run. Registration begins at 10:00 am at American Legion Post 237 in Beverly
beautiful afternoon of fashion and fun!
Hills. Last bike in will be 4:30 pm when food will be served. For additional information on
Marketplace Vendors wanted:
the American Legion #237 Poker Run, call 352.746.5018 or John Roby at352.341.5856..
It's almost here-- the annual Florida Manatee Festival comes to Crystal River
January 19 and 20, 2013. That means two days with twelve to fifteen thousand people mill-
January 19th 10:30 am Dunnellon Library - Bat Habitat Program
ing around in a good mood, looking for ways to spend money and we want them to spend it
Presents Shari Blissett-Clark who sits on the board of Bat Belfrys, Inc., a non-prof-
it organization dedicated to conserving Florida's bats through public education and habitat
The Citrus County Chamber of Commerce makes improvements to the Manatee
restoration. She serves on the boards of the Florida Native Plant Society and Brevard Bo-
Festival every year to make it more successful and attract more people. Marketplace booths
tanical Garden. She became interested in bats when while sailing, she whipped the cover
are an integral part of the festival. It's an economical way to meet face to face and sell the
off the mainsail of her boat and was startled by bats bursting out of the sail causing Shari to
benefits of your business RIGHT NOW. Two days of interacting with people from all over
leap into Matanzas Bay! Shari discovered her passion for these fascinating little mammals
the county and beyond. Spaces are filling quickly and we want YOU to be there. Mar-
and has been a bat advocate ever since. This program is a 1 hour program including Q&A.
ketplace booths are an economical $240.00 for the two day festival; if you are a Chamber
Alzheimer's Caregiver Support Group
member, the cost for a marketplace spot is only $185.00.
People touched by Alzheimer's disease and other related disorders come together
in a non-judgmental, safe environment to vent their frustrations,
End of Time Prophecy Seminar
share coping techniques learn more about the disease and discover what resources are avail-
Start the New Year off right with an End Time Prophecy Seminar beginning Jan.
able to them. Thursday January 3rd at 2:30 pm at Superior Residences of Lecanto, located
3rd at the Glad Tidings SDA Church at 7:O0pm. lt will continue each Tues. and Thurs.
at 4865 W Gulf-to-Lake Highway, Just west of the Greek Orthodox Church. If you require
nights until Mar. 12. The church is located at 520 NE 3rd Ave., Crystal River. There is no
respite care for your loved one during the meeting please RSVP by December 24th. RSVP
charge and all are invited. Come find out who the Antichrist and the Beast is and what his
Mark is. Registration is required due to limited seating. Call 352-628-1743 to register.
Tricky Tray Fund Raiser
The Council of Catholic Women of Our Lady of Grace Church is hosting their an-
nual Tricky Tray Fund Raiser, Saturday, January 19, 2013, in the Parish Life Center,
6 Roosevelt Blvd., Beverly Hills, FL, 34465. Doors open at 10:00 AM and the drawings be-
gin at 11:30 AM. Our Tricky Tray features baskets with contents valued at $25 or more. For
information contact Bernita Becker at 352-344-0235.
Thrift Shop Bus Tour
The Newscaster
The Hospice of Citrus County Thrift Shoppe Bus Tour will be held on Saturday,
January 19, 2013. The Bus Tour begins at 8:15 am at the Homosassa Too Thrift Shoppe
253 Hwy 40 W. • Inglis, FL
located at 8471 W. Periwinkle Lane, Homosassa. You'll return to Homosassa Too at 4:30
1/4 mile west of Hwy. 19
pm. Bus fare for the day is $20. The Bus Tour will visit five Hospice of Citrus County
In a Hurry? Call Ahead
(352)
447-2406
Thrift Shoppes located in Citrus and Levy County. For additional information on the Thrift
Shoppe Bus Tour, or to make a reservation, contact Caroline at 352.621.1550.
Open M,W,Th 11a-12mid, F-S til 1am • Closed Tues.
w!
email news to: news@thenewscaster.com
Everything Made to Order
SPREY RIVER TOURS
Fresh-Made Salads: Antipasta, Chicken, Chef & Shrimp
Specials, Homemade Soups, Chowders & Chili
Steaks & Seafood Pasta Dishes with Homemade Sauces
Hand-Pressed Hamburgers Cooked Your Way
Pool!
nday FREE
Mo
Pizza, Calzones & Oven-Baked
Saturday: Prime Rib after 4 pm
Daily Lunch & Dinner Specials
Randy Alumbaugh
Construction, Inc.
(352) 447-5610
New Homes - Renovations - Additions
www.CaptainsCoveOutfitters.com
Serving Marion, Levy & Citrus Counties
www.alumbaughconstruction.com
Bait • Ice • Tackle
Licensed & Insured CRC058012
Clean Family Friendly Atmosphere
Office: 352-447-0655 - Inglis
50
All Rods & Reels New w/Mfg. Warranty
21 lbs. of ICE FREE w/purchase of 100 Shrimp!